Directory Of Halloween Recipes for Your Frightening Pleasure
Classic Halloween Recipes
Halloween Recipes and Treats

CARAMEL - CARMEL COVERED APPLES

Autumn, Halloween and caramel covered apples! Nothing sounds better this time of year...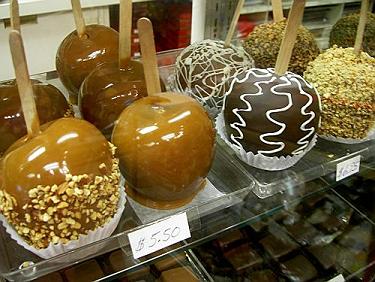 Carmel Covered Apples are a wonderful Halloween treat and they are very easy to make. It's a great recipe to have the kids help out with, too!

INGREDIENTS

MAKES 5 CARAMEL APPLES
40 - Caramel cubes
5 - Apples (Macintosh are most popular)
1 - Tablespoon of water
5 - Wooden sticks
1 - Wax paper

PREPARATION

Wash and dry the apples thoroughly. Remove stems and Insert the wooden sticks into the stem hole until about half the stick is in the apple. In a small saucepan, over low heat, melt the caramels with the water, stirring constantly until smooth. Now dip the apples into the hot caramel sauce, coating the apple completely. Place on greased, wax paper.
Added options include dipping, or re-dipping in chocolate, rolling in crushed nuts and creative frosting and decorating

STORAGE & SERVING

Store your caramel covered apples in the refrigerator.

Before serving, remove them from the refrigerator and allow them to stand for about fifteen minutes. We like to serve our caramel covered apples on a large black platter and use extra caramels as a garnish.