Directory of Halloween Costumes and Decorations Superstores
Costume Supercenter .Com Halloween Superstore Review
Costume Supercenter Halloween Costumes Accessories
Costume SuperCenter makes the World Wide Web truly a worldwide shopping experience by offering to ship Halloween costumes just about anywhere including Canada, the UK, Australia, New Zealand and France. Based on your shipping method and location, you can receive your package in less than a week in most cases.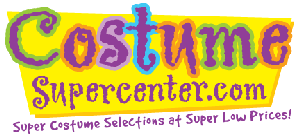 Costume Super Center offers a huge supercenter selection of costumes to choose from, one of the largest on the web. Plus, costume prices at the Costume Supercenter are out of this world low...
The Costume Supercenter prides themselves on having the largest costume and accessories selection with the lowest prices.
With a diverse selection of categories that you can choose from, you will find costumes to suite yourself, as well your friends or family. Regardless of how magical or supernatural the creatures or beings are that you are trying to become this Holiday season, a quality and realistic costume awaits you. Lord of The Rings, Harry Potter, Alice In Wonderland, Dragons or vampires, Cops and Robbers, Whoever - Whatever, find what your looking for at the CostumeSuperCenter.
CostumeSuperCenter
Halloween costumes and accessories.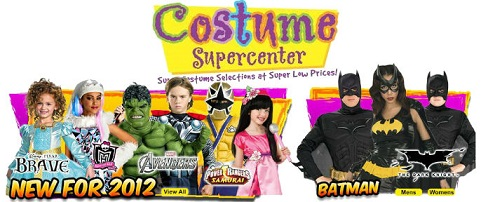 Store Information:

Costume SuperCenter

45 Fernwood Avenue
Edison, NJ 08837
Contact #'s
Phone: 888-575-5575
Fax: 732-862-1107
The Costume Supercenter carries a wide selection from Sexy to Wizards, Ghouls, and Fairies! Oh My! Get the scariest creatures or the most amazing famous star costumes, it's all there.

At the Costume Super Center you'll find costumes for anyone of any size so that no one will be left out of the festivities.
Select from infant to plus sized costumes as well as everything in between. Matching costumes, sexy costumes, evil costumes, and even cartoon character costumes. If you are looking for a one stop shop that you can go to to fulfill all of your costume shopping needs, you have found it at the Costume SuperCenter!
Costume Supercenter Online Shopping

When you receive an invitation to a costume party, you have the perfect opportunity to find an outfit here that will stand out and get noticed. Some people choose costumes that reflect their personality. For the adventurous type, a pirate costumes may be the perfect fit. Or dress up as someone or something that is completely unexpected. Sexy costumes always turn the heads and grab attention. Transform into a 60's go-go dancer or a cowgirl and get the party rockin. Regardless of your costume preferences, the categories are overflowing with creative costumes, accessories and props for party goers of any size (including plus size costumes).

A high school teen or tween looking to impress their friends at a costume party will find a great collection of Halloween costumes located in the teen costumes category.

There are many special occasions where a woman may need a costume or themed outfit. She may be invited to a party with a vintage 1920's theme. Costume categories offer plenty of outfits that look like they were transported out of another time to fit the trends of days gone by or futuristic. Whatever your needs, props and accessories can put a unique touch on your getup.

Halloween parties at a preschool or a neighbor's house are a great place for kids Halloween costumes to take shape. Under the category of infant and toddler costumes, parents and their little ones can choose from a large variety of themed choices.

Girls and boys who are a little older can look through their own costume categories. The girls costumes category offers everything from occupational outfits to the scariest of costumes. Choose from kids costumes ideas that include Dorothy, cartoon characters, cheerleaders, and more. Boys costumes offer choices ranging from superheroes to cowboys to famous historic figures. Both boys and girls are certain to find the costumes that fit their interests.

Make you costume unique with a full line of hats, wigs, masks and other accessories that add even more splash to a great costume. Accessories and makeup lend realistic detail to a costume. Shoes, gloves, eyeglasses, and even fangs are among the special touches.


ls 10