Directory of Halloween Costumes and Decorations Superstores
Costumes 4 Less .Com Costume Center Halloween Superstore Chain Review
Costumes 4 Less - Halloween Costumes & Accessories
Costumes4less is a registered trade mark of Anilta Corporation and a leading online retailer of Halloween Costumes & Accessories, Drama and Theme Party Outfits, Lingerie & Sexy Wear. They also offer accessories such as Shoes and Party & Wedding Supplies. They work hard to offer customers the most pleasant online shopping experience by providing a wide selection of products, at the best possible prices thru an easy-to-use, full featured and secure web site.

Efficient operations permit Costumes4Less to offer their blanket Price Guarantee. If you find a lower price on any of the same Costumes or Accessories anywhere else, they will more than match any competitor's price This low price guarantee applies to every item they carry, every day. Compare and if you find something at a lower price, they will pay you 110% of the difference by ordering thru Costumes 4 Less. You can claim this credit to be applied toward your order.
Costumes4Less
Halloween costumes and accessories.
Costumes 4 Less continuously invests in online retailing technology to ensure that Internet Shopping is safe, secure and provides a pleasant shopping experience. They work constantly and closely with costume manufacturers, suppliers and designers to ensure that they bring the best and latest quality products to the market, and to your door every day to insure you the best one stop shopping experience.

By keeping costs under control they can continue to pass the lowest prices on to their customers. Their unique low price guarantee in made available by eliminating wasteful advertising and marketing expenses so that discounts can be applied to every item they sell. This is accomplishes by foregoing any physical retail stores, or printing any expensive catalogues. All products are sold online and get shipped directly from their manufacturers and suppliers warehouses right to your door.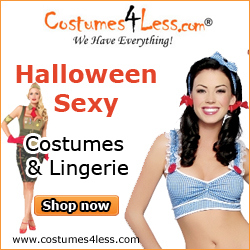 Main Home Base Operations

Costumes 4 Less
Anilta Corporation

7625 East Rosecrans Avenue #3
Paramount, California 90723
Phone: 1-408-COSTUME
(1-408-267-8863)

FAX: 1-562-286-8022
Phone agents are most suited for taking new orders. Questions about existing orders are best asked on the web and answered by senior reps via email.
Costumes 4 Less Online Shopping
The Costumes 4 Less website is hosted in a multi-million dollar data center by state-of-art technology and secure internal control processes that keep shopping safe. Extensive system management is in place to detect and prevent any fraud or potential hacking. This investment in technology protects business practices and more importantly, protect your private information.

Your business, and your trust are highly valued. Your personal information is never shared or given away give away, including your e-mail address or any other personal information.
Costumes4Less Customer Care
Only the highest standards of fairness and ethics are practiced when dealing with customers, suppliers and employees. These are not simply good values Costumes 4 Less abide by, this is also good business. It's the moral and ethical practice that allows the company to grow.

Batman costumes | Disney costumes | Easter Bunny costumes | Halloween Magic Tricks | Halloween Props & Decor | Harry Potter costume | Mascot & Character Costumes | Medieval Renaissance costumes | Nurses costumes | Pirate costumes | Rock Star costumes | Spider Man costumes | Sexy costumes | Star Wars costumes | Superman costumes | Witch Costumes

Adult Costumes | Children Costumes | Infant & Toddler Costumes | Pets Costumes | Mascots | Accessories | Makeup | Hats & Wigs | Face Masks | Props, Decor and Novelties | Plus sizes


cj 5-10
© Website Copyright Protected All Rights Reserved.