Directory of Halloween Costumes and Decorations Superstores
Halloween Express .Com Costume Center Halloween Superstore Chain Review
Halloween Express - Halloween Costumes & Accessories
Halloween Express is an expansive and dynamic Halloween chain that spans all across the United States. Founded back in 1990, Halloween Express offers both company owned and franchised owned superstores with locations throughout the U.S. Their success is stabilized on the fact that they offer the largest selection of Halloween merchandise available anywhere...

By leveraging the buying power of nearly 300 Halloween Express superstore location they are able to offer the lowest prices along with the absolute largest selections of Halloween costumes and Halloween related items you'll find anywhere online. This leveraging power gives them a huge advantage of passing on the savings to consumers through their numerous retail store locations. With over two decades of experience in the Halloween business, and being one of the largest and most respected Halloween costume and accessory suppliers, you can rest assured your purchase will be handled quickly and efficiently to get you product to you in a timely manner.
HalloweenExpress
Halloween costumes and accessories.
The Halloween Express merchandise assortment is updated on an annual basis to ensure the latest product trends are available as they become popular, along with the tried-and-true favorites that are always best sellers. Licensed product are also available as part of the merchandise mix to ensure you find what your looking for. Each holiday season the latest and most sought after costumes and accessories are made available to you in one easy to access online location that offers you the best selection anywhere on the internet for easy access.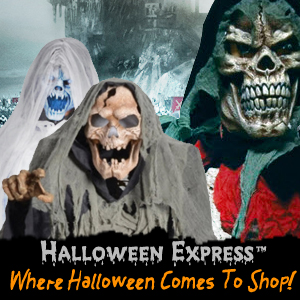 Main Retail Store, Franchise Operation

302 N. Main Street
Owenton, KY 40359
502.484.0551


Online & ECommerce Operations

7505 Sussex Drive Lower Level
Florence, KY 41042
859.282.5550
Halloween Express Online Shopping

Seasonal costumes and accessories are offered 365 days per year for all your costume and specialty party needs. You can visit any one of their retail store locations during the Halloween season, or find the best selection of merchandise right on their website all-year-round.
Halloween Express website ecommerce operations are open all year round where they maintain full selection of merchandise. The contact center and help desk facility remains open in their Florence, KY location. All aspects of the online ecommerce operation are managed from the Florence, KY facility where the marketing team, affiliate management team, merchandising personnel and technical team are all housed as well. The Florence, KY based ecommerce team also supports many of the company owned and third-party ecommerce website operations.
Halloween Express Retail Store Shopping
Most of the Halloween Express retail stores are seasonal. However, some remain open year round to accommodate shopping for other festive party needs. Their online retail store locator can be used to see if a retail store near you is open when you need to shop for costumes or accessories in the off season. Halloween Express seasonal stores are typically opened in mid August and then close around the beginning of November after Halloween has past.
The Halloween Express Company and Franchise operations are organized into two divisions. One division supports the online ecommerce operations while the other division oversees the retail store and franchise operations. Retail store and franchise operation management is based out of Owenton, KY. The online ecommerce operations management are based out of the Florence, KY location. Each division is suited to handle our support needs efficiently.


cj10
© Website Copyright Protected All Rights Reserved.