Directory of Halloween Costumes and Decorations Superstores
Halloween Mart .Com Costume Center Halloween Superstore Chain Review
Halloween Mart - Halloween Costumes & Accessories
Halloween Mart was established back in 1994 as an online presence for Halloween and other event Costumes throughout the year. They offer discounted prices for the most frugal shoppers. Halloween Mart provides an easy online venue for customers to shop and find high quality costumes and accessories for any occasion all year long. Today Halloween Mart offers one of the larges supplies of costumes for sale in a wide array of choice.
.

Search thru millions of Halloween and festive costumes at the lowest prices available!

HalloweenMart hosts the Internet's widest selection of high-quality costume items, props, and accessories ranging from infants, pets, and toddlers, thru kids costumes and adult attire. Halloween costumes are available in all types and sizes. Adult Superhero, Kids Superhero, and even sexy lingerie, at affordable discount prices. Featuring a huge inventory with over 10,000 of the best made, highest quality, trendiest, and most vivid Halloween costumes available anywhere. With over a decade and a half of online experience, you can expect the best.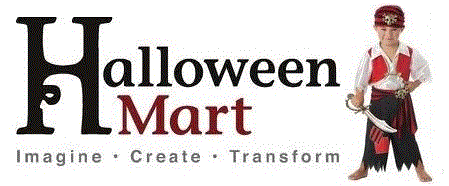 HalloweenMart
Halloween costumes
and accessories.
Choose from a great collection of costumes for all kinds of events throughout the year including holidays such as the Fourth of July, and events like birthday and theme parties.
Halloween costumes are always influenced by the blockbuster movies that are released every year when it comes to the most popular trends in costume sales. Movies that feature highly recognizable characters make great choices in costumes for both men and women alike. Scheduled releases of up-coming movies also tend to drive up sales as consumers try to get a jump on what they see as appealing characters. Shop soon and secure a great costume without worrying about limited supplies as we get closer to Halloween.

Halloween Mart General Inquiries info@halloweenmart.com

Toll Free - 1.800.811.4877 | Intíl - +01.702.740.4224 | Locals - 1.702.740.4224

Halloween Mart 6230 S. Decatur Blvd. Suite. # 101 Las Vegas, Nevada 89118
Halloween Mart Online Shopping
Halloween Mart continues to expand their vast selection of Halloween costumes and accessories on an annual basis to include everything from pop icons like Michael Jackson to storybook staples like Alice In Wonderland. They offer Halloween costumes as varied and unique as you and I with attire that ranges from current to classic. You can finish off your costume with your own personal tweek by choosing from the extensive gallery of Halloween costumes accessories. Basic and high-end costume make-up, along with tutorials help you create a variety of looks, from famous faces to spooky expressions.
Trained staff is always on hand to assist in selection of the perfect outfit to fit your party plans. Make your Holiday a memorable one with the proper costume to get you noticed. Easter parties and fun get-togethers are always a favorite time to dress up and step out. Stand out costumes can prove to be the biggest sources of excitement and festive get-togethers. Lingerie and sexy costumes are always hot sellers that keep the fun and excitement happening.
Halloween Discount Shopping
In October and throughout the rest of the year, you will find deeply discounted costumes, and pet outfits and accessories. HalloweenMart can provide just about item you need to host a captivating costume party anytime of year.
The true roots of the Halloween holiday and costuming date back as far as 2,000 years ago when the Celts occupied the region that is now known as Ireland, the United Kingdom, and northern France. They celebrated their new year with a festival called Samhain on November 1, and it symbolized the close of the summer and their harvest season.
The Celtic people associated this season with a time of widespread human death, and believed that on October 31st, the night before the new year, the ghosts of the dead returned to earth to cause trouble and threaten the precious food supply. These prophecies brought comfort to the Celtic people during the long winter season, and during the celebration, fashioned costumes out of animal skins and heads to ward off the ghosts. Today it's all about the fun and fright!


sas 10
© Website Copyright Protected All Rights Reserved.