Directory of Halloween Costumes and Decorations Superstores
Spirit Halloween .Com Costume Center Halloween Superstore Chain Review
Spirit Halloween - Halloween Costumes & Accessories
Spirit Halloween is more than just costumes. Fit your family and your budget, get all the accessories you need to stand out with hats, wigs, shoes, make-up, masks, and much more. Professional quality grade theatrical costumes and accessories add a splash of authenticity to fool everyone. Choose from scary costumes, funny costumes, sexy costumes, family friendly costumes, plus size costumes and group costumes to fit your party.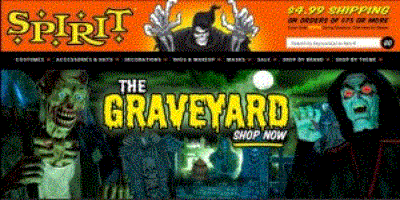 Spirit Halloween was founded in 1983 when it opened its first store. Since then Spirit Halloween has experienced tremendous growth and in 1999, Spirit Halloween operated 63 seasonal store locations throughout the United States and was acquired by Spencer Gifts LLC.
Since the acquisition, expansion of its store store base has grown from 63 locations to over 1,000 for the 2013 season. It has now become the largest Halloween specialty store network on the planet! Spirit Halloween stores are situated in high visibility, high-traffic strip centers and most stores open around Labor Day weekend and close in early November. Spirit Halloween Superstores are located within every one of the 50 states and throughout Canada in all major markets.
SpiritHalloween
Halloween costumes and accessories.
Find what you need with affordable, comfortable and safe children's costumes for infants, toddlers, kids, tweens, and teens. Get classics favorites from the big screen and stage as well as, superheroes, Star Wars, Transformers, cartoon characters, reality stars, Spiderman and pet costumes as well.

Decorate your car, home and yard with haunting decor for Halloween yard and home decor to transform your car or home into a scary haunted Halloween experience. Halloween inflatable props and lots of scary accessories will get everybody into the Spirit of Halloween!.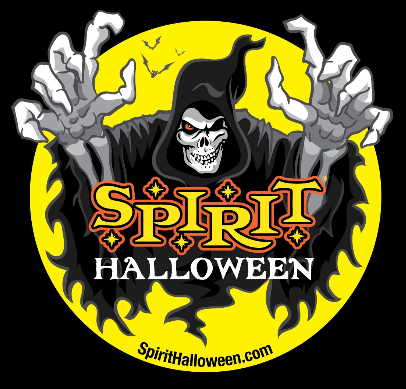 Spirit Halloween
Corporate Office:

Spencer Gifts, LLC
6826 Black Horse Pike
Egg Harbor Township, NJ 08234

customer service department,
Phone 1-866-586-0155

Store Locator
Spirit Halloween has set a goal to give back for 2013 and raise $5M in merchandise and cash donations with celebrations hosted in 80 hospitals throughout the United States and Canada.
Spirit for Schools is also an innovative way for local communities to raise money for their schools, while experiencing the fun of shopping for Halloween.
Spirit Halloween Online Shopping
As the largest network of Halloween Stores in the nation and online. Spirit Halloween has been bringing the Spirit of Halloween to communities for over 25 years. Founded in San Francisco, they have grown dynamically over the years. Now for communities around nation, the season openings of Spirit Halloween stores signal the approach of the Halloween holiday.

Shop online from wherever and whenever you want. The online site gives you the convenience of shopping, browsing and buying Halloween products at anytime. With the widest and most unique selection of costumes anywhere, you will find the best and most complete selection costumes, masks, wigs, makeup, decorations and accessories.
Spirit Halloween
Retail Store Shopping
In-Store Experience, With the largest chain of stores, you can walk right in, see and touch the merchandise, and talk to a real, live sales person. Dedicated customer service agents are reachable at 1-800-COSTUME, and are always ready to answer your questions, take your order, or locate a store for you – 24 hours a day, 7 days a week. You can also email them at customer service @ spirit halloween .com.
Spirit Halloween's retail stores are comprehensive one-stop destinations for all you Halloween needs. Spirit Halloween stores provide a unique and impressive shopping experience in addition to being a fun and interactive event for shoppers. A large portion their selection is exclusive merchandise found only at Spirit Halloween.

cj 13
© Website Copyright Protected All Rights Reserved.