Directory of Halloween Costumes and Decorations Superstores
Totally Costumes .Com Costume Center Halloween Superstore Chain Review
Totally Costumes - Halloween Costumes & Accessories
Totally Costumes is an internet retailer of Halloween and party costumes. They offer a large selection of costumes that can be worn by infants, toddlers, children, tweens, teenagers, adults and pets as well. Costumes in each category are available in a wide range of sizes, including plus size sections. This Colorado-based company has been in business since 1994...

Shopping at Totally Costumes is hassle free as they offer a dynamic support team that works together to make sure you receive your order as quickly as possible. They offer shoppers the largest selection of high quality costumes possible at affordable and competitive prices both online and offline. Their friendly customer care team provides diligent service while the shipping facilities work efficiently to insure your order is shipped out as quickly as possible.
Totally Costumes .com is one of the largest online costuming retailers that operate all-year-round to provide you with costumes for all your dress-up needs! Whatever you are looking for, sexy styles, kids sizes or characters from your favorite movie & TV shows, your sure to find the perfect fit for your next party or event to make you stand out and draw attention.
TotallyCostumes
Halloween costumes and accessories.
Totally Costumes offers over 30,000 costumes, costume wigs, shoes, and accessories, to choose from for Halloween or any other dress up event you may be attending. They are a top rated party supply destination for everything you may need this holiday season. Shop now at the only place where the party never stops! Whatever you need for your Halloween, holiday, pretend play dress-up, cosplay, or theatrical performance is waiting for you.
Totally Costumes offers what it takes to be unique and different.
Costumes are offered for unique or relevant themes to popular trends and movies like, Avatar, Glee Costumes, Thor Costumes, Transformer and Green Lantern Costumes.

They offer diversely themed costumes for all ages in various sizes to fit anyone.

They are a one-stop shop for all your party needs as they also offer accessories like contact lenses and wigs, character party supplies, themed props and Mardi Gras masks.

A same day shipping policy insures that every order placed before 3:00 PM (EST) will be processed and shipped the same day.

Shipping is free for orders over $100 in value.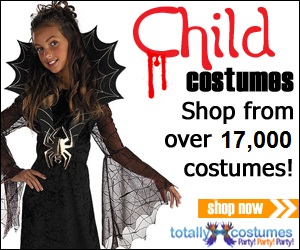 Totally Costumes
41190 Road G,
Mancos, CO 81328

Phone: (970) 533-7772
Fax: (970) 533-9002
Online & ECommerce Operations
www. totally costumes .com
Totally Costumes Online Shopping

Now you can get the party started with help from Totally Costumes where you will find one of the largest online selections of Halloween and party costumes for all ages. Find everything from baby buntings, kids costumes to men's and women's as well as all the toddler, tween and teen sizes in between! Find Sexy Halloween costumes and Plus size costumes to complete your selection for any party occasion. Celebrate the holidays in total character with Totally Costumes!
Totally Costumes Accessories
Numerous accessories available include costume wigs that can go with any costume purchase, as well as shoes, makeup, hats, fangs and much more. costumes. Group costumes are also available to put your family or friends in character as a team of party goers. Looking for other party favors? No need to look anywhere else. TotallyCostumes also sells party supplies, party decorations and props to help you put all the fun together with ease.

Attention to detail is unsurpassed, and everyone at Totally Costumes genuinely cares that you have the best shopping experience that exceeds all your expectations. They strive for perfection and offer the best shopping experience possible.
Totally Costumes allows you to place an order with without a credit card by using a PayPal account. All you need to do is create an account on Paypal.com and enter your financial details. PayPal is designed from the ground up to be a safer way to send money online and it does not expose or sell your financial information to merchants.

TotallyCostumes supports the need for a convenient ordering system for schools, performing arts centers and churches. They offer a Purchase Order Program for organization ordering convenience within the domestic United States! Whether it be for school plays, religious pageants, theatrical shows or your holiday program, they offer a large selection of costumes, wigs and accessories to help meet any event needs.


sas 10
© Website Copyright Protected All Rights Reserved.